MOTORWAY CONTROL CENTER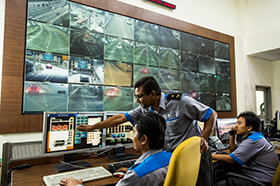 The Motorway Control Center is manned 24 hours a day by trained traffic controllers. Their roles are to:
Monitor traffic situation along SMART alignment via the CCTVs.
Received information from road users through the Emergency Telephones or SMART Helpline.
Informing the motorist via Variable Message Sign (VMS).
Spot the cause of traffic congestion, such as vehicle breakdown or accident, and to immediately dispatch assistance so as to ensure smooth flow of traffic.
SMART Ronda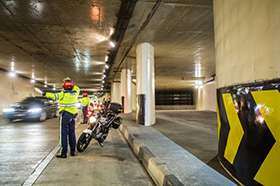 The Ronda team patrols the SMART highway 24 hours a day to assist motorist in need of help. The service provided by the Ronda Team is free of charge. Motorist in need of assistance can use SMART helpline or any of the emergency telephones along the highway. The line will be connected to the Motorway Control Center.
EMERGENCY TELEPHONES
The telephones are located at the emergency exits. It is linked to the Motorway Control Center to provide the motorist with easy access for emergency assistance.
Variable Message Sign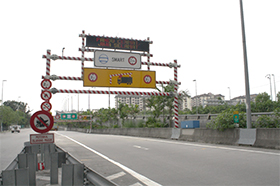 Variable Message Sign (VMS) of amber coloured LEDs provide a mean of informing the motorist of any "traffic advice or message" which will help the motorist to avoid any inconveniences or incidents and in general to facilitate the flow of traffic. These messages are relayed from the Motorway Control Center.